Can Turmeric Prevent and Treat Food Poisoning?
Most Common Causes
Over 90% of food poisoning cases are caused by: (67)
Turmeric and its compounds have shown activity against all of these except Campylobacter jejuni. Turmeric also inhibits Anisakis simplex, a parasitic worm that can cause food poisoning and severe allergic reactions. A. simplex infections can occur from eating undercooked contaminated fish. Indirect exposure to the dead parasite (such as from eating chicken fed contaminated fish meal) can cause severe allergic reactions. (v.26, 67)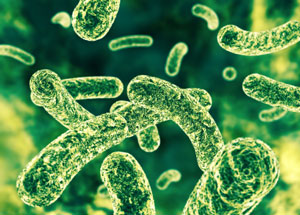 Turmeric has been used for thousands of years for its healing properties. traditional herbal medicines continue to use it to treat many illnesses, including infections. (v.62-64)
Modern research confirms turmeric's antimicrobial properties against many of the germs and bugs found in food. Results indicate that turmeric could be an effective natural remedy for food poisoning. According to some researchers, over 40 million people a year in the United States alone get sick from bacteria in food. In addition, people worldwide are infected with parasites in contaminated water and food. (v.62-64)
Outbreaks of food poisoning by some bacteria are increasing. What makes food poisoning scarier is that a growing number of these bacteria and viruses are resistant to conventional antibiotics. However, turmeric may provide an herbal solution, blocking even drug-resistant types. Some of the disease-causing microbes in food and water that turmeric and its compounds show activity against include: (v.6, 11, 16, 64-66)
Turmeric's ability to promote faster
wound healing
also limits the chances microbes have to cause infection.
(

v

.26, 67)
Salmonella Safety Concerns
One study suggests people might want to avoid taking pure curcumin extracts from turmeric for salmonella. Even so, other studies show that crude extracts of turmeric are powerful and safe antibacterial compounds against salmonella strains. (v.68)
Using the whole herb, not just curcumin.
(

v

.68)
Join the 1000s of People Who Are Discovering the Benefits of Turmeric.
---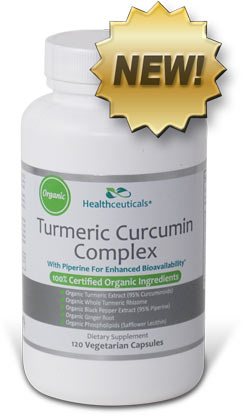 Healthceuticals® Turmeric Curcumin Complex
100% Certified
Organic ingredients
Organic Turmeric Extract - standardized to 95% curcuminoids.
Organic Whole Turmeric - provides full spectrum antioxidant, anti-inflammatory turmeric benefits, including turmerones and numerous vitamins, minerals, and phytonutrients
Organic Black Pepper Extract - standardized to 95% piperine; dramatically enhances bioavailablity.
Organic Phospholipids - markedly improve absorption.
Organic Ginger - works synergistically with turmeric to provide more powerful benefits.
Absolutely FREE of potentially harmful additives and fillers such as magnesium stearate.