Turmeric Can Help Protect Male Fertility
Although fertility is usually thought of as a female problem, in fact men are found to have infertility in 30-40% of couples having difficulties attaining pregnancy. Low sperm count, abnormal sperm, and reduced ability of sperm to move are all signs of male infertility. (x.60, 105)

What Causes Male Infertility?
Healthy testosterone levels are important to male fertility, but low testosterone isn't the only factor that can impact a man's fertility. Other factors include: (x.105)
Compounds in Turmeric May Help
Table X.16: Turmeric Compounds that Could Reduce Risks of Male Infertility
Turmeric Form or Compound
What It Does

Camphor (x.31)

Curcumin

May improve erectile dysfunction linked to diabetes. (x.116)

Could reduce anxiety and depression. (x.39, 89)

May protect reproductive glands against loss of function caused by the antimicrobial drug metronidazole. (x.115)

Could limit free radical damage and boost antioxidant levels reduced by thyroid conditions. (x.117)

May protect the male reproductive system from exposure to toxic chromium (VI), which is used in chrome-plating, dye, and leather industries. (x.76)

Eugenol (x.31)

Limonene (x.31)

Anti-anxiety effects may reduce stress. (x.42)

Quercetin (x.46)

Antidepressant and anxiety relieving effects can reduce stress. (x.47-48)

Resveratrol (x.49)

Antidepressant effects could relieve stress. (x.48)

Vitamin C (x.32)

Vitamin E (x.32)

Turmeric (whole)

Could help prevent harmful changes in testosterone and antioxidant levels caused by nitrate pollutants. (x.119)
Chemo Caution
Lab studies suggest that turmeric's curcumin compounds could interfere with Bleomycin, a chemotherapy used on testicular cancer. It inhibits production of free radicals by the chemo drug and protects the cancer cells from death. (x.120)
In comparison, chromium III is the most common type in the environment and is a micronutrient.
(

x

.29)
Is This the BEST Turmeric Supplement Ever?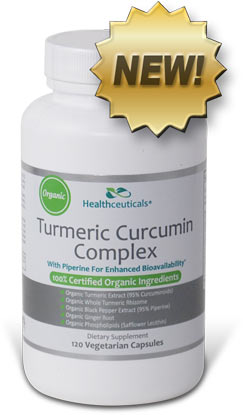 Healthceuticals® Turmeric Curcumin Complex
100% Certified
Organic ingredients
Organic Turmeric Extract - standardized to 95% curcuminoids.
Organic Whole Turmeric - provides full spectrum antioxidant, anti-inflammatory turmeric benefits, including turmerones and numerous vitamins, minerals, and phytonutrients
Organic Black Pepper Extract - standardized to 95% piperine; dramatically enhances bioavailablity.
Organic Phospholipids - markedly improve absorption.
Organic Ginger - works synergistically with turmeric to provide more powerful benefits.
Absolutely FREE of potentially harmful additives and fillers such as magnesium stearate.