The Turmeric.com Forum FAQ
General Forum Rules
Welcome to the Turmeric.com Forum
It is our goal to provide a forum where people will help each other by sharing their insights and experiences with Turmeric.
All site disclaimers in the Terms of Use regarding user conduct and handling of submissions apply here as well.
Turmeric.com reserves the right to amend or edit these rules at any time for any reason.
Forum Rules
We want this to be a pleasant, informative experience for all our readers, and we need you to help make that happen. So first and foremost, we ask everyone to please be respectful and treat other users as you would wish to be treated.
You must be 18 years of age or older in order to participate in the forum.
All rules apply to posts, polls, private messages, signatures, user titles, and user names.
Report posts or private messages that violate forum rules using the Report Button.
Do not quote posts that violate forum rules.
All posts are at your own risk, so be careful what you post.
The following are prohibited:
Racist, sexist, or bigoted comments or slurs in any form (including images).
Offensive, disgusting, aggressive, lewd, profane, threatening, or derogatory language, posts, pictures, or private messages.
Overly long or disruptive images, text or format changes, trolling, or other blatant forum disruption.
Linking to sites that violate forum rules.
Promotion or advertising for any commercial sites/services.
Spam.
Discussion of illegal activities (United States federal laws apply).
Promotion of charitable causes must be approved by an administrator.
Death threats, threats of violence, and advocating or discussing suicide.
Posting personal information. This includes but is not limited to: phone numbers, full names, physical addresses, IP addresses, emails, and social media sites.
Utilizing multiple accounts to avoid a ban or using more than one account for any reason whatsoever. Each user is allowed one active account.
Posting copyrighted material without permission from the copyright owner. This includes linking to illegal streams, torrent sites, or otherwise providing sources or methods of copyright infringement.
Attempting to circumvent forum rules (or censors), or assisting or encouraging others to do so.
Violation of any of these rules or the Terms of Use are subject to corrective action, up to and including permanent removal from the forums.
Disclaimers
This website and forum do not provide professional medical advice.
The contents of this website, including but not limited to graphics, images, text, or any other information obtained or provided herein, (hereafter referred to as "Content") are for informational purposes only. The Content is not intended to replace or be used as professional medical advice, diagnosis, or treatment. If you have questions about a medical condition or require medical advice, always seek the advice of your physician or other qualified healthcare provider. Do not ignore or delay seeking professional medical advice, diagnosis, and/or treatment because of something you have read or viewed on this website. If you think you may have a medical emergency, call your doctor or 911 immediately. This website does not endorse or recommend any specific tests, physicians, products, procedures, opinions, or other information that may be mentioned on the website.
THE CONTENT ON OR OTHERWISE RELATED IN ANY WAY TO OUR SITES OR ANY THIRD PARTY SITES OR SERVICES LINKED TO FROM ANY SITE IS PROVIDED "AS IS" AND WITHOUT WARRANTIES OF ANY KIND. TO THE FULLEST EXTENT PERMISSIBLE PURSUANT TO APPLICABLE LAW, WE DISCLAIM ALL WARRANTIES, EXPRESS OR IMPLIED, INCLUDING WARRANTIES OF MERCHANTABILITY, FITNESS FOR A PARTICULAR PURPOSE, ACCURACY, COMPLETENESS, AVAILABILITY, SECURITY, COMPATABILITY AND NONINFRINGEMENT. WE DO NOT WARRANT THAT ANY CONTENT WILL BE ERROR-FREE, THAT ACCESS THERETO WILL BE UNINTERRUPTED, THAT DEFECTS WILL BE CORRECTED, OR THAT ANY SITE OR THE SERVERS THAT MAKE SUCH CONTENT AVAILABLE ARE FREE OF VIRUSES OR OTHER HARMFUL COMPONENTS. MOREOVER, YOU ASSUME THE ENTIRE COST OF ALL NECESSARY SERVICING, REPAIR OR CORRECTION. WE DO NOT WARRANT OR MAKE ANY REPRESENTATIONS REGARDING THE USE OR THE RESULTS OF THE USE OF ANY CONTENT. YOU HEREBY IRREVOCABLY WAIVE ANY CLAIM AGAINST US WITH RESPECT TO CONTENT AND ANY CONTENT YOU PROVIDE TO THIRD PARTY SITES (INCLUDING CREDIT CARD AND OTHER PERSONAL INFORMATION).
Furthermore, the Content is not intended to be a substitute for the services of trained professionals in any field, including, but not limited to, medical matters. Always seek the advice of your physician with any questions you may have regarding your physical or mental health and wellness. If you think you may have a medical emergency, call your doctor or 911 immediately. We make no representations or warranties concerning any treatment, action, application or usage of dietary supplements, medication, preparation or other product or service by any person following the information offered or provided within or through the Sites. Reliance on any information appearing on a Site is strictly at your own risk. Neither we, our affiliates nor any of the officers, directors, owners, employees, agents, representatives and assigns of each will be liable for any direct, indirect, consequential, special, exemplary or other losses or damages that may result including, but not limited to, economic loss, injury, illness or death.
Sites may contain the opinions and views of other users. Given the interactive nature of these sites, we cannot endorse, guarantee, or be responsible for the accuracy, efficacy, or veracity of any content generated by our users.
Site content is intended for educational and entertainment purposes only. Such content is not intended to, and does not, constitute legal, professional, medical or healthcare advice or diagnosis, and may not be used for such purposes. Always seek the advice of your physician or other qualified health provider with any questions you may have regarding a medical or wellness condition. You should not act or refrain from acting on the basis of any content included in, or accessible through, the Sites without seeking the appropriate medical or other professional advice on the particular facts and circumstances at issue from a doctor or other trained health care professional licensed in the recipient's state, country or other appropriate licensing jurisdiction.
F.A.Q
How do I close my account?
-If you would like to have your account deactivated and removed from public viewing please email us using our contact form or call customer service at 1-800-989-2542. Once we have verified information on the account we can get the account deactivated.
How do I change my username?
-Username changes are not allowed. If you have a specific reason why a username change is necessary, contact the forum admin.
How do I get posts or threads removed?
- By signing up for an account, you agree to the terms of use that state users post "at your own risk." We are under no obligation to remove any content and will only consider removal requests of specific posts that violate forum rules. So take caution in what you post. If you have a specific reason to remove content please contact a moderator or the forum admin to discuss removal.
How do I contact a moderator?
-Contact a moderator by emailing This email address is being protected from spambots. You need JavaScript enabled to view it..
Return to Website Terms of Use
Click here to return to the terms of use.
Join the 1000s of People Who Are Discovering the Benefits of Turmeric.
---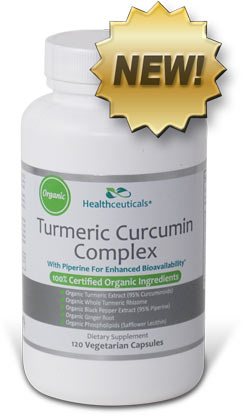 Healthceuticals® Turmeric Curcumin Complex
100% Certified
Organic ingredients
Organic Turmeric Extract - standardized to 95% curcuminoids.
Organic Whole Turmeric - provides full spectrum antioxidant, anti-inflammatory turmeric benefits, including turmerones and numerous vitamins, minerals, and phytonutrients
Organic Black Pepper Extract - standardized to 95% piperine; dramatically enhances bioavailablity.
Organic Phospholipids - markedly improve absorption.
Organic Ginger - works synergistically with turmeric to provide more powerful benefits.
Absolutely FREE of potentially harmful additives and fillers such as magnesium stearate.